AKC National Gundog Brace Beagle Championship Is Won by 'Meg,' 'Molly,' 'Trackman' & 'Chaos'
With rabbit-tracking accuracy, four Field Champion Gundogs outshined the competition to win their classes at the 2021 AKC National Gundog Brace Beagle Championship Oct. 4 to 5 at Belmont Jefferson Beagle Club in St. Clairsville, Ohio.
NGBC FCGD Eagle's Wings Mega Ball, a 2 ½-year-old tricolor female, won the 13-inch class with clean, tight check work, following the rabbit's every turn into cover and down the path. "Meg" topped 52 hounds with her good nose, straight-line tracking and exuberant chop mouth. Owned by breeder Marty Gipson of Paris, Missouri, Meg was handled by Zak Hoover of Upland, Indiana. Her sire, FCGD Hillsides High Ball, is Gipson's first finished Field Champion, and her dam is FCGD Stanford's Jessie.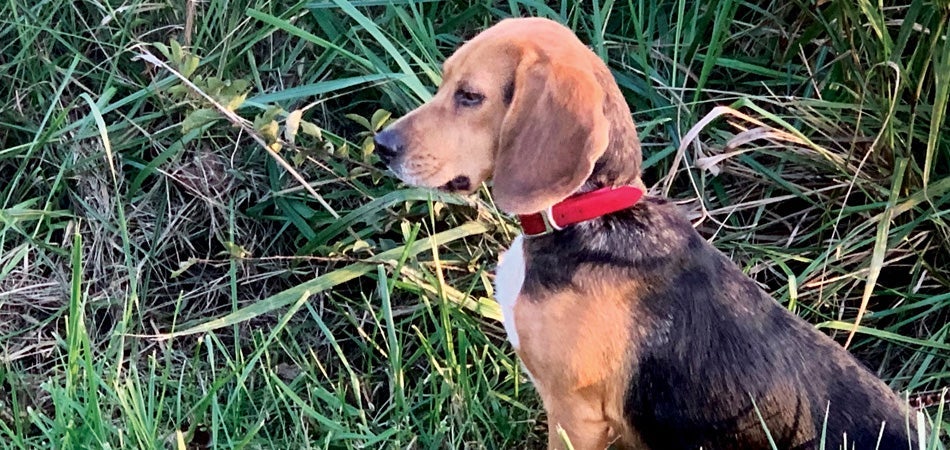 NGBC FCGD Old Hatchie's I'm Taking The Grand Tour, a 2 ½-year-old black-and-tan female, won the 15-inch class, outperforming 66 rabbit trackers with her slow, chop mouth, big nose and focus. "Molly" was handled by breeder-owner Todd Odle of Jackson, Tennessee. She was the high hound in second series when she ran with her littermate sister, FCGD Old Hatchie's Dragondoll, who held second place. Odle says Molly performs much like her dam, NSPC NGBC FCGD Stephen's Pearly Blue. Her sire is FCGD McDaniel's Jake From State Farm.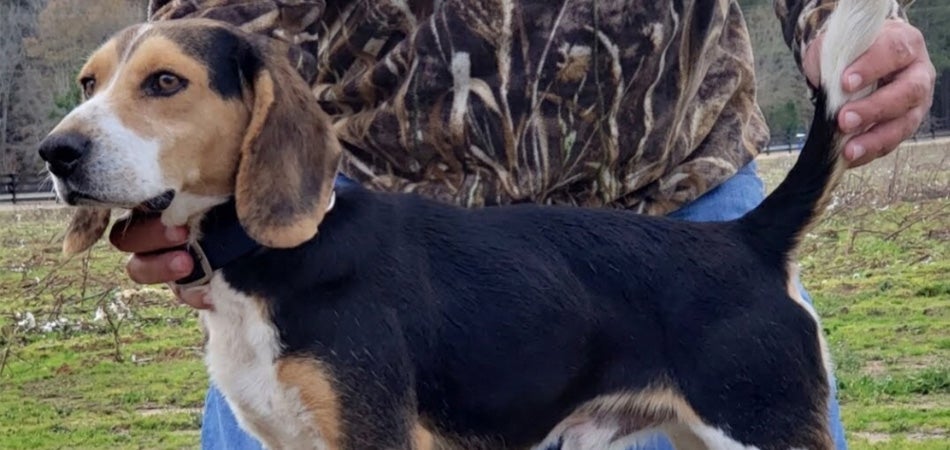 NGBC FCGD Still's Wipeout Trackman, a 4-year-old tricolor male, kept his cool to overturn the high brace and win the 13-inch class out of 38 gundog Beagles. Handled by owner Travis Still of Blackville, South Carolina, "Trackman" stood out with his squall mouth that opened to a chop mouth when trailing the rabbit into thick cover. Likening Trackman to his sire, NSPC FCGC Still's Wipeout Slim Shady, Still says Trackman was the stud puppy out of a litter whelped by FCGD Strickland's One Eye Wonder. David Strickland of Georgia is the breeder.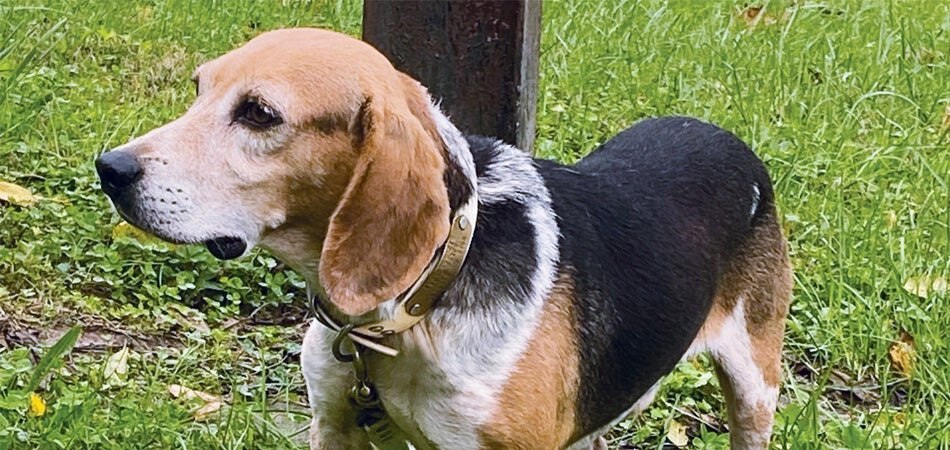 NGBC FCGD Hall's Hillbilly Chaos, a 6-year-old tricolor male, came back from fourth in second series to win the 15-inch class. Handled by Caleb Cole of Scottsburg, Indiana, a co-owner with Marc Gibbs of Marengo, Indiana, "Chaos" kept the rabbit going and stood out with his tracking and high-pitched mouth. Bred by Tim Young of Booneville, Indiana, Chaos was sired by FCGD Blue Rivers Doc Holiday out of Young's Rock Hard Roxy.
Molly, Trackman and Chaos were fueled for their fast-action, rabbit-tracking performances by Purina Pro Plan SPORT Performance 30/20 Chicken & Rice Formula dog food.