English Springer Spaniels, 'Badger' & 'Dots,' Are 2020 National High-Point Open & Amateur All-Age Dogs
Driven by enthusiasm, natural ability and an exceptionally close bond with their amateur breeder-owner-handlers, "Badger," a 5-year-old black-and-white male, and "Dots," a 3-year-old liver-and-white male, delivered powerful, consistent field trial performances to be named the 2020 National High-Point Open All-Age and 2020 National High-Point Amateur All-Age English Springer Spaniels, respectively.
Garnering 25 points in 12 field trials, FC AFC CFC Pheasant Feathers Cove Creek Badger MH earned eight placements including taking first place at Mid-Penn, Bushy Hill and Keystone to secure his spot on top of the Open All-Age roster. John Dunn of Bedford, Pennsylvania, who owns and bred Badger with his wife, Mona, was the handler. In 2018, Badger finished fourth at the Canadian National Open Championship.
"Badger is a team player whose outstanding bird finding, intelligence and precision retrieving are exceptional," says Dunn, who has been competing in springer trials for seven years. "One of his strong points is being so in tune with me and looking to me for direction."
Nationally ranked achievers stand out on both sides of Badger's pedigree. His maternal grandsire is NAFC FC AFC CFC Pheasant Feathers Black Powder, the 2008 National Amateur Champion, and his paternal grandsire is NFC FC AFC Crosswinds Warpath, the 2006 National Open Champion. Badger's dam, Pheasant Feathers Prairie Skye MH, is Dunn's first field trial English Springer after years of hunting with Labrador Retrievers. She also is the dam of the first litter the Dunns bred.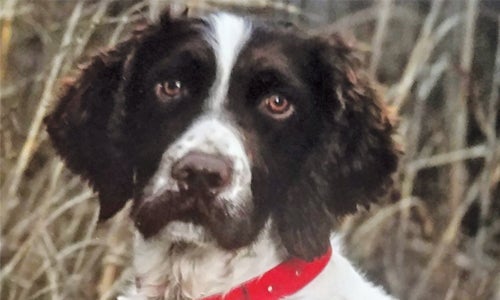 On the amateur circuit, AFC Mojo's Joey Two Dots earned 32 points in 15 field trials that included first places at Susquehanna, Central Maine, Pittsburgh, and the Cocker Club of America. The smallest pup in a litter of 10, Dots required bottle-feeding and special attention for the first 16 weeks. Breeder-owner-handler Michael F. Nolan of Richmond, New Hampshire, says, "We spent a lot of one-on-one time bonding, and this connection helps us in trials."
Named for two brown dots on his back, the talented male earned a Certificate of Merit at the 2020 National Amateur Championship. "Dots is a great bird hunter," says Nolan, of his first High-Point dog since he started competing in 2008. "Early on, I recognized his intelligence and natural affinity for finding birds, flushing and retrieving."
Dots was sired by FC AFC Geordie Lad MH out of FC AFC Z&Z's Sky Dancer of Fallen Wings. His maternal bloodline includes four National Champions in five generations: great-grandsires NFC FC AFC Crosswinds Warpath and NFC FC AFC Eagle Brae's Good Sport, great-great-grandsire NFC FC AFC Kenkew Briar Of Saradynpark, who is also a great-great-great-grandsire, and great-great-great grandsire NFC FC Pondviews Left In The Light.
Professional Jim Keller of Wildwind Kennels in Knox, Maine, did the foundation bird dog training with Badger and Dots. Both springers are fed Purina Pro Plan SPORT Performance 30/20 Salmon & Rice Formula.